We held our 5th Annual Sanibel Causeway Fishing Tournament on Saturday, May 4, 2019. Approximately 100 employees and family members attended. The catch and release tournament was held to raise awareness of water quality issues and to thank our team for their hard work. $2,400 will be donated to the Sanibel Captiva Conservation Foundation (SCCF) and Captains for Clean Water.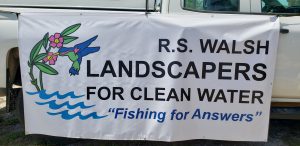 We chose SCCF and Captains for Clean Water to receive this year's donation to fund the great work both are doing to raise awareness and help fund water quality issues particularly in Pine Island Sound. Great fishing, food and fun was had by all. Thanks also go out to all our clients that help support these important issues.
Guests enjoyed a shrimp and crab boil, hamburgers and hot dogs, cooked by our supervisors and foremen and had the opportunity to get out on the water with seven local fishing guides and experience back bay fishing around the islands. There was also a shore fishing category. Prizes were awarded for longest Snook, longest Redfish, longest Catfish, top boat and mystery fish.